Offices in Nassau County, NY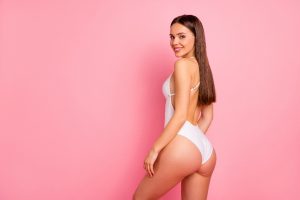 Big butts are very popular these days. Unfortunately not everyone that wants one is genetically blessed with a large, round backside. For those patients who want to enhance the curviness of their buttocks, Dr. David Funt can perform butt augmentation, a plastic surgery that artfully places implants into the buttocks for appealing contours that look and feel natural.
Butt Augmentation Suitable Candidates
Butt augmentation is an elective surgery for patients who are displeased with the size and contours of their butts. To achieve a larger butt without surgery, you would generally have to put on weight; un-fortunately, you cannot control where the fat deposits amass in your body. Implants are a convenient way to get the precise proportions you want for your buttocks without adding thickness to other areas.
During a consultation, Dr. Funt will confirm your candidacy for butt augmentation. The best candidates are typically in good health, non-smokers (as smoking can impede the healing process) and have reasonable expectations about what the surgery can accomplish.