What Is BodyTite?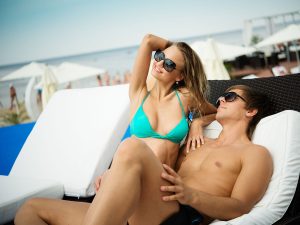 Skin can stretch for a variety of reasons, including weight gain, pregnancy, and aging. After losing weight, taut skin should constrict around the newly smaller body contours. However, many people, particularly those over 35, no longer produce enough collagen and elastin to keep their skin elastic-like. This means that the skin stays stretched, obscuring the improved body contours.
BodyTite emits radiofrequency (RF) energy to help stimulate new collagen and elastin production, thus tightening loose skin.
Why Is BodyTite Paired with Liposuction?
Liposuction is a surgery that permanently pulls out unwanted fat cells to improve the contours of a patient's body. The cosmetic problem that some patients find is that once they have excess fat removed, the loose skin around their newly smaller frame makes their bodies seem less toned than they had originally hoped. Adding BodyTite to this classic surgery improves the tightness of the skin, which further enhances the results attained with liposuction. Dr. Funt recommends this approach to patients who want liposuction but exhibit signs of skin laxity.
What Is the Recovery for Liposuction with BodyTite Like?
Recovery times vary from one patient to the next, but patients typically need a few days to two weeks to feel well enough to return to work after liposuction with BodyTite. Swelling, bruising, and discomfort (which can be managed with pain medication) should disappear in the weeks following treatment. It can take up to six months for the complete results to manifest, since collagen and elastin production continues to improve over time.