Offices in Nassau County, NY
Not every patient who loses weight instantly loves his or her appearance. Although the fat cells may be gone, sagging skin is often left behind, which can detract from an otherwise thinner body. For these patients, Long Island plastic surgeon David K. Funt offers BodyTite, FaceTite and Morpheus8.
All three of these procedures are remarkable innovations from InMode, one of the biggest names in cosmetic medical devices. They allow patients to achieve nicer body contours without having to un-dergo an invasive surgery.
BodyTite Treatment Details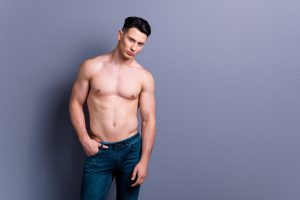 BodyTite relies on radiofrequency to heat and emulsify fat beneath the skin. Once the fat has been liquified, a cannula is used to pull out the unwanted fat cells. At the same time, BodyTite tightens skin tissue and boosts collagen production, ultimately creating smoother, tighter skin. The procedure can safely be performed on many parts of the body, including the abdomen, thighs, arms and back.
BodyTite Recovery and Results
Patients typically need a few days of downtime, or up to a week if multiple areas have been treated. You can wear compression garments to help your body to heal more quickly and properly. Some re-sults will be visible immediately, although most patients will not see the full tightening take effect for six months to a year as the ongoing collagen production continues to improve the results.
FaceTite Treatment Details
FaceTite is a similar procedure to BodyTite, except that it is designed to treat smaller areas on the face. Like BodyTite, it uses radiofrequency to heat up unwanted fat, which is subsequently extracted with a cannula. Most often this treatment is used to tackle the jowls and sagging skin along the chin and neck to achieve a more nicely contoured jawline.
FaceTite Recovery and Results
Similar to BodyTite, some results from FaceTite will be evident right away, and then will show gradual improvement as the new collagen is produced for six to twelve months after treatment. Patients typi-cally need a few days before they look and feel well enough to return to their jobs.
Morpheus8 Treatment Details

While Morpheus8 also relies on radiofrequency, it differs in that in uses a microneedle to push the heat beneath the skin. In the weeks following treatment, collagen production increases, which prompts the skin to tighten and strengthen up for a rejuvenated appearance.
Morpheus8 is a versatile treatment in that it can be used anywhere on the body that could benefit from collagen production and tighter skin, the face included. It is most frequently used on the neck and lower face to replicate many of the effects of facelift surgery.
Morpheus8 is commonly used in conjunction with FaceTite to optimize the results of both. Morpheus8 is especially popular with patients who have acne scars, wrinkles and stretchmarks.
Morpheus8 Recovery and Results
While most patients will experience some redness and mild irritation for a couple of days following treatment, there is no significant downtime. You are free to resume most normal activities immediately after Morpheus8 treatment.
If you would like to see the benefits of BodyTite, FaceTite and/or Morpheus8 for yourself, please schedule an appointment at Funt Aesthetics.