Patients with sagging, wrinkled or crepey skin may be good candidates for Hyperdilute Radiesse, a new approach to dermal filler injections. By diluting Radiesse, Dr. David Funt can rejuvenate the face, neck and other areas of the body by improving the texture of the skin.
What Is Hyperdilute Radiesse?
While most dermal fillers use hyaluronic acid (HA) for volumizing, Radiesse's gel is comprised of calcium hydroxyapatite (CaHA). Hyperdilute Radiesse is a new application of this classic injectable treatment. Instead of injecting Radiesse in its standard form, Dr. Funt dilutes the gel with saline solution and lidocaine (an anesthetic that minimizes discomfort). While patients can see instant fullness after a Radiesse injection, as the microspheres in the gel gradually dissolve, it also stimulates the production of collagen and elastin, which helps to further smooth out the skin.
What Are the Benefits?
Hyperdilute Radiesse is gaining in popularity for skin rejuvenation by diminishing lines and wrinkles, smoothing the texture and even reducing cellulite.
Although this non-invasive treatment cannot produce results as dramatic as surgery, the Hyperdilute Radiesse technique can mimic many of the volumizing and lifting effects of procedures like facelift and neck lift.
Dr. Funt's patients enjoy Hyperdilute Radiesse because the results from the thinner gel appear more natural. The thinness of the gel allows it to spread through larger areas and not give the skin an overly full appearance.
In Which Areas Can Hyperdilute Radiesse Be Used?
Most often, Dr. Funt injects the face, neck and chest (decolletage). However, Dr. Funt's patients have also seen good results dealing with loose skin and even cellulite on other areas that include the buttocks, hands, upper arms, abdomen, knees and elbows.
How Long Does Hyperdilute Radiesse Take to Work?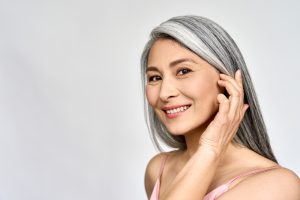 Patients see an immediate increase in volume, but the results only improve from there. By boosting collagen production, patients should see visibly tighter skin appear within a few weeks, with results improving for the next several months.
How Long Does Hyperdilute Radiesse Last?
Hyperdilute Radiesse tends to be visible for six months to one year before the results fade. To maintain their results, patients should return to Funt Aesthetics for periodic injections. Radiesse lasts longer in areas where the skin is stationary. Skin that moves more often, due to proximity to joints and facial muscles, may have a quicker dispersal of the Hyperdilute Radiesse.
Are There Side Effects?
Some patients experience mild swelling and bruising at the injection area, which generally fades within a couple days. Discomfort is minimal, especially since diluted Radiesse has lidocaine added.
Do I Need More Than One Treatment?
To achieve optimal results, Dr. Funt often recommends starting with two or three treatments of Hyperdilute Radiesse. After examining the condition and texture of his patients' skin, he can confirm whether they are good candidates for Radiesse injections and whether multiple treatments are necessary. Thereafter, patients usually require just one treatment each year.
To schedule a consultation with one of Long Island's best reviewed plastic surgeons, please call our Roslyn Heights office or Woodmere office at 516-295-0404 today.