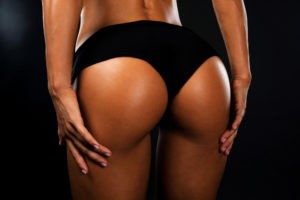 There is no doubt that a round, voluptuous butt is one of the most desirable body traits so far of the 21st century. Unfortunately, this isn't a feature that we are all naturally blessed with. If you have a rear that is as flat as a pancake, you may be wondering what options you have to help you achieve a full, well-rounded set of buttocks and the sexy silhouette that has been made iconic by celebrities around the globe.
When it comes to cosmetic surgery to boost the size of your butt, there are really only two options – a Brazilian Butt Lift performed using fat transfer, and butt implants. How they differ? Which is right for you? Here is what you need to know about both of these cosmetic procedures that can transform the appearance of your booty.
What is Involved in a Brazilian Butt Lift Using Fat Transfer?
The Brazilian Butt Lift, or BBL as it is commonly known, is a very popular choice amongst patients hoping to improve the size of their buttocks. It is performed under a general anesthetic and involves two steps.
The first is to collect some of your own fat from an area of your body where there are plenty of fat cells. Common areas where fat for transfer is taken from including the thighs, stomach, lower back, and flanks. This fat is removed using a process similar to liposuction, which not only takes away excess fat but also contours the area that it is being removed from, giving patients the benefit of additional improvement.
Once the fat has been collected, it is harvested and purified to prepare it for reinsertion into your body. By doing this, the fat is less likely to be automatically reabsorbed into the body, but instead will stay in your buttocks, enhancing their shape and size. It is then ready to be placed into your butt which is done using a series of injections placed at different depths into the skin to achieve your desired contours.
What Are the Advantages of a BBL Using Fat Transfer?
There are a variety of benefits to choosing a BBL using fat transfer. These include:
A minimally invasive procedure
Low risk of infection
No risk of allergic reaction or rejection since the procedure uses cells from your own body
Minimal scarring
Faster recovery compared to that for butt implants
Natural, permanent results
Is There Anything That Needs to Be Taken Into Consideration When Choosing a BBL Using Fat Transfer?
The main thing that patients need to be aware of is that the results of your procedure will not be instant. It can take up to around 3 months to see the final outcome during your procedure and it is important to be patient while swelling dissipates and your new and improved shape is revealed.
It's also important to factor in that you will be recovering from two procedures simultaneously – your liposuction and your butt fat transfer. Therefore, you will need to take at least a couple of weeks off of work so that you can follow the post-procedure recommendations made to you by your surgeon.
What is Involved in Butt Implants?
A procedure to receive butt implants is much more invasive than a BBL using fat transfer. This is because your surgeon will need to make an incision into each buttock and lift the gluteus maximus – the main extensor muscle of the hip – in order to create a pocket to place the butt implant into. Each implant, the size of which is decided ahead of your procedure, is created from soft, gel-like silicone and is inserted into the pocket whole. Sutures are then used to close the wound.
What Are the Advantages of Butt Implants?
The main advantage of butt implants is that the results are more obvious and immediately visible, so you can start enjoying your new shape immediately.
Is There Anything That Needs to Be Taken Into Consideration When Choosing Butt Implants?
There are a few important things that you will need to take into consideration if you decide to choose butt implants to transform the shape of your booty. These include:
A more invasive procedure
Although every attempt will be made to keep scarring to a minimum, the incision means that some scarring is inevitable
Recovery is generally longer and more painful, and you may need to stay in hospital overnight
Greater risk of infection and other complications such as bleeding and nerve damage
There is a risk that your implant may move following your procedure, and this could lead to asymmetry in the appearance of your butt
If you have further questions about either Brazilian Butt Lift surgery using fat transfer or butt implants, or if you would like to schedule a consultation to discuss your candidacy for surgery, please contact Funt Aesthetics in Woodmere, NY on 516-295-0404.