Offices in Nassau County, NY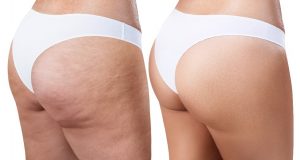 Though cellulite has traditionally been a difficult skin issue to treat, Funt Aesthetics is excited to now offer QWO. QWO (collagenase clostridium histolyticum-aaes) is the sole FDA-approved injectable treatment intended for cellulite reduction on the buttocks. This non-invasive procedure is an easy, pain-free way for women in the Long Island region to achieve a smoother, more attractive backside.
Understanding Cellulite
Over 90% of women will develop cellulite in their lifetime. While most people associate cellulite with weight gain, it is more directly the consequence of aging. Skin gets thinner in later years, and fat cells naturally enlarge. The combination of having thinner skin and larger fat cells creates a dimpling effect known as cellulite on parts of the body, including the buttocks. Although cellulite is harmless from a health standpoint, it can detract from the attractiveness of the body's contours.
How QWO Cellulite Treatment Works
QWO is a prescription medicine that specifically targets the fibrous septae, the connective tissue that forms along with cellulite. There is an enzyme in QWO that breaks up older collagen particles, which triggers your body to create new collagen in the buttocks. This collagen production then serves to smooth out the surface of the skin.
The nurse practitioner will inject QWO directly into the areas on the buttocks where cellulite is present. Each treatment can be completed in as few as 10 minutes. Women will receive a total of three treatments, with each appointment scheduled three weeks apart.
QWO Downtime and Results
Due to its non-invasive nature, patients do not need to worry about experiencing downtime. They may resume their normal activities as soon as they leave Funt Aesthetics. Though most side effects are minimal, some patients may experience bruising, swelling or irritation at the injection sites.
Results from QWO will start to become visible about 10 weeks after the first treatment. These results should gradually improve due to an ongoing increase in collagen production. For most patients, these results will remain evident for over a year, though at some point additional QWO injections will be necessary to keep the reduced appearance of cellulite.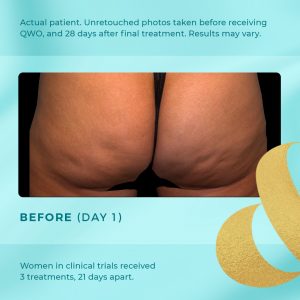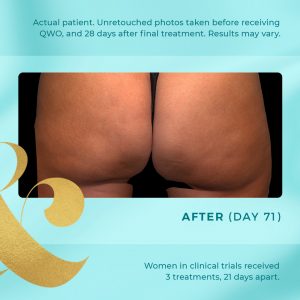 Who Is a Candidate for QWO?
Most adult women who have moderate to severe cellulite on the buttocks are good candidates for QWO. Women who are pregnant or breastfeeding will need to wait to receive QWO treatments. Additionally, women are allergic to collagenase or other active ingredients in QWO should avoid these injections.
For those patients with sagging skin on the buttocks, a laser skin tightening treatment may ultimately do a better job of boosting the appearance of the butt. At a consultation, the experts at Funt Aesthetic can offer a professional opinion on whether QWO is the best treatment for each patient's unique skin.
Schedule an Appointment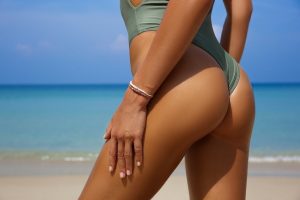 If you are interested in trying out QWO to address the cellulite on your butt, the exceptional team at Funt Aesthetics is here to help you restore not only a smoother skin texture, but also your confidence to wear a swimsuit. Call our Woodmere office at 516-295-0404 or Roslyn office at 516-627-6100 at your soonest convenience.