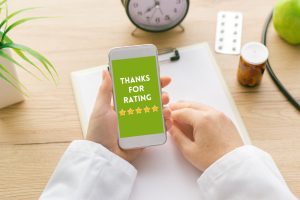 If you wish to cosmetically enhance your face, body, or breasts, the most important decision you will make is which plastic surgeon to entrust with performing your surgery. While there are many plastic surgeons, especially in NYC, the quality of care and results can differ significantly from one surgeon to another. That is why the team at Funt Aesthetics strongly encourages you to conduct a thorough examination of patient reviews to help narrow your options.
To Learn How Real Patients Feel About Their Experience
Plastic surgeons can make lofty promises, but you can get a realistic sense of what your experience may be like by reading the candid descriptions written by other patients. Reviews contain pertinent information like the skill of the doctor, the demeanor (friendliness) of the doctor, and whether the patient is glad that he or she had elective surgery. Although anyone can get the occasional bad review — what really matters is whether a plastic surgeon has overwhelmingly positive reviews.
To See Before and After Photos
Some review sites allow plastic surgeons to upload their photos. While a doctor's own before-and-after gallery is a good place to see the quality of work, you may get a better sampling by looking at additional examples that were not curated by the plastic surgeon.
To Determine the Plastic Surgeon's Experience
Every doctor starts somewhere, but you are under no obligation to choose a surgeon early in his or her career. A plastic surgeon's experience matters significantly in achieving appealing, natural-looking results, not to mention safe care. As you peruse the reviews, check to see that the positive reviews go back several years to verify that he or she is experienced.
To Understand More About the Recovery
On several sites, patients are candid about their recovery experience. It's good to know from other people how long it took them to recover and whether they experienced significant discomfort, as this may help you establish realistic expectations for what having surgery is like. Pay special attention to what patients say about aftercare (follow-up appointments) since you should only seek care from a surgeon who cares about your health and happiness after your surgery to ensure you are recovering well and are free of complications.
Dr. David Funt Invites You to Browse His Reviews
One thing that sets Dr. Funt apart from his peers is his glowing patient reviews. He welcomes prospective patients to take a close look at these reviews across multiple platforms as they accurately reflect his character, skills, and high quality of work. He and the entire team at Funt Aesthetics prioritize the patient's comfort and wellbeing throughout the process, from consultation to aftercare — they are fortunate and thankful that these patients confirm that this attention made a difference in their lives via their reviews.
Reviews are just the first step, though. A consultation is a great opportunity to meet the surgeon, discuss a surgical plan, and determine if you are comfortable moving forward. To arrange a consultation with Dr. Funt, please call 516-627-6100 for our Roslyn office or 516-295-0404 for our Woodmere office.