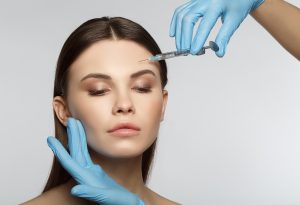 When it comes to non-surgical procedures, Botox injections are one of the most popular procedures performed by Dr. David Funt. Dr. Funt is an expert in administering neurotoxins like Botox as well as Xeomin and Dysport. If you are wondering why his Long Island patients love Botox, then this article is for you. Here, Dr. Funt discusses the top reasons that his patients love Botox and how Botox compares to other neurotoxin options.
How Does Botox Work?
Botox is an injectable treatment that is made from botulinum toxin. Injections of Botox block nerve impulses, which weakens targeted muscles. This causes wrinkles to relax, resulting in a more youthful and rejuvenated appearance.
Top Reasons Long Island Patients Love Botox
There are a lot of reasons that patients love Botox. Below are the top reasons Long Island patients love Botox.
Botox Can Be Used to Target Facial Lines and Wrinkles
Lines and wrinkles, especially those on the face, are the most common signs of aging. Botox can be used to reduce the appearance of both facial lines and wrinkles. Botox is injected into targeted areas, which means that it can be customized to meet the needs of every patient. Some of the most popular areas that Botox is used are around the eyes, forehead, mouth and neck.
Botox Is Fast and Effective
Rejuvenating your face doesn't have to take a lot of time. Botox is a fast and effective treatment. Most injections can be completed in minutes, and the results are visible within a few days. The results of Botox can last up to six months.
Botox Is Painless
Patients love that Botox is a powerful injection that is relatively painless. Most patients report that it feels like a quick pinch or subtle bug sting. Some patients do opt for a cold pack or topical anesthetic cream before the injections.
Botox Is Versatile
In addition to combating the signs of aging, Botox has a number of other applications. Botox can be used to treat migraine headaches, reduce excessive sweating and even to help manage eye and neck muscle spasms.
How Does Botox Compare To Other Neurotoxins?
Botox is a leading neurotoxin, and it is easy to see why. It is a fast, effective, painless and safe way to target facial lines and wrinkles. Xeomin and Dysport are also injectable forms of botulinum toxin. All three are beneficial for patients wishing to reduce the signs of aging. There are key differences between the three including the additives, how fast results appear and how much is needed per treatment.
Request a Botox Consultation With Dr. Funt
Are you ready to fall in love with Botox? Schedule a Botox consultation with Dr. Funt. You can reach our Woodmere office or our Roslyn Heights office by calling (516) 295-0404. You can also contact us through our website.